The Holy Name: Christmas Lessons & Carols at 11:00 a.m.
Officiant: Josette Keelor
1 January 2023
11:00 AM – 12:00 PM
---
Good Shepherd Episcopal Church
27 Good Shepherd Road
Bluemont, VA 20135
›
Driving Directions
---
In-Person and Online!!
Join us on this New Year's Day for our service of Morning Prayer with "Christmas Lessons & Carols". We'll hear the rest of the Christmas story, from the visitation of the shepherds and the wise men, to the naming of Jesus in the temple with the blessings of Simeon and Anna, to the Holy Family's flight to Egypt and their return to Nazareth, to the fulfillment of God's promise to humanity. All the readings are interspersed with familiar carols and hymns.

Our LIVE service begins at 11am. Thanks be to God that COVID-19 hospitalizations and deaths in Clarke County continue to remain low. Masks are optional and available in the Narthex and hand sanitizer is available throughout the church.
---
If you are more comfortable continuing to keep your distance, we understand.
You can still join us for online worship, via Zoom, using the following link:
Click here to join Good Shepherd Zoom worship
Meeting ID: 230 268 4545 | Password: Get2gether
Click HERE for a PDF copy of this week's bulletin.
---
The Collect of the Day: Eternal Father, you gave to your incarnate Son the holy name of Jesus to be the sign of our salvation: Plant in every heart, we pray, the love of him who is the Savior of the world, our Lord Jesus Christ; who lives and reigns with you and the Holy Spirit, one God, in glory everlasting. Amen.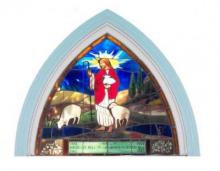 A Christmas Blessing:
May Almighty God, who sent his Son to take our nature upon him, bless you in this holy season, scatter the darkness of sin, and brighten your heart with the light of his holiness.
May God, who sent his angels to proclaim the glad news of the Savior's birth, fill you with joy, and make you heralds of the Gospel.
May God, who in the Word made flesh joined heaven to earth and earth to heaven, give you his peace and favor.
And the blessing of God Almighty, the Father, the Son, and the Holy Spirit, be upon you and remain with you for ever. Amen.