The 19th Sunday after Pentecost: Worship & Animal Blessing with Rev Martha
Celebrant: The Rev. Martha Clark
8 October 2023
11:00 AM – 12:00 PM
---
Good Shepherd Episcopal Church
27 Good Shepherd Road
Bluemont, VA 20135
›
Driving Directions
---
In-Person and Online!!
Join us for our special service of Holy Communion, Rite II, with Blessing of the Animals and special music to celebrate creation, for

The 19th Sunday after Pentecost

, with the Rev. Martha Clark.

Our LIVE service begins at 11am. Masks are now optional for in-person worship, but are still available in the Narthex, with hand sanitizer stationed throughout the church.
---
If you are more comfortable continuing to keep your distance, we understand.
You can still join us for online worship, via Zoom, using the following link:
Click here to join Good Shepherd Zoom worship
Meeting ID: 230 268 4545 | Password: Get2gether
Click here for a PDF copy of this week's bulletin.
---
The Collect of the Day:
Almighty and everlasting God, you are always more ready to hear than we to pray, and to give more than we either desire or deserve: Pour upon us the abundance of your mercy, forgiving us those things of which our conscience is afraid, and giving us those good things for which we are not worthy to ask, except through the merits and mediation of Jesus Christ our Savior; who lives and reigns with you and the Holy Spirit, one God, for ever and ever. Amen.
Readings for this Sunday:
Isaiah 5:1-7
Psalm 80:7-14
Philippians 3:4b-14
Matthew 21:33-46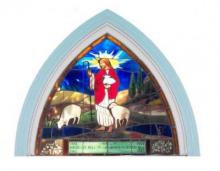 A Prayer attributed to St. Francis of Assisi: Lord, make me an instrument of your peace: where there is hatred, let me sow love; where there is injury, pardon; where there is doubt, faith; where there is despair, hope; where there is darkness, light; where there is sadness, joy. O divine Master, grant that I may not so much seek to be consoled as to console, to be understood as to understand, to be loved as to love. For it is in giving that we receive, it is in pardoning that we are pardoned, and it is in dying that we are born to eternal life. Amen.