18th Sunday after Pentecost: Morning Prayer with Josette
Officiant: Josette Keelor
September 26th at 11am
11:00 AM – 12:15 PM
---
Good Shepherd Episcopal Church
27 Good Shepherd Road
Bluemont, VA 20135
›
Driving Directions
---
In-Person and Online!!
Join us for our service of Morning Prayer for the 18th Sunday after Pentecost.

Our LIVE service begins at 11am. Thanks be to God that COVID-19 hospitalizations and deaths in Clarke County continue to remain low. However, transmission rates of the Delta variant are on the rise, so masks are now required again for all in-person worshippers. Masks are available in the Narthex and hand sanitizer throughout the church.

---
If you are more comfortable continuing to keep your distance, we understand.
You can still join us for online worship, via Zoom, using the following link:
Click here to join Good Shepherd Zoom worship
Meeting ID: 230 268 4545 | Password: Get2gether

Click here for a PDF copy of this week's bulletin.

---
The Collect of the Day:
O God, you declare your almighty power chiefly in showing mercy and pity: Grant us the fullness of your grace, that we, running to obtain your promises, may become partakers of your heavenly treasure; through Jesus Christ our Lord, who lives and reigns with you and the Holy Spirit, one God, for ever and ever. Amen.
Readings for this Sunday:
Esther 7:1-6, 9-10; 9:20-22
Psalm 124
James 5:13-20
Mark 9:38-50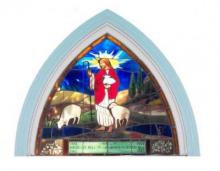 A Prayer for the Future of the Human Race: O God our heavenly Father, you have blessed us and given us dominion over all the earth: Increase our reverence before the mystery of life; and give us new insight into your purposes for the human race, and new wisdom and determination in making provision for its future in accordance with your will; through Jesus Christ our Lord. Amen.