Operation Christmas Child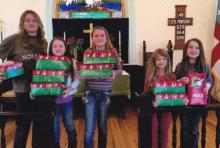 From 2015 to 2019 we collected and donated items for OCC and worked with young families in the community to create a spirit of community infused by the joy of giving. Our hope is to continue to grow this project to send more Christmas boxes while inviting more of our neighbors to join in.
For 2019, we collected 11 wonderful boxes. You can track them using this tracking ID, FYBDC5116272855, on this page. Please see this page for more information abour Operation Christmas Child.
Thank you for your donations and thoughtfulness!