Letter of Thanks from Thomas Edmonds
2/9/2018
Editor's Note: Good Shepherd Church and others have been sending donations of school supplies and more to Thomas Edmonds in support of the Sisters of Mother Teresa Orphanage in Kabul. Here Thomas sends his thanks and love with photos of the donations going to the sisters! And we add our thanks to our troops and to the sisters and pray that God will bless them and the children in their care.
Greetings from Afghanistan,
Recently, security has been strict because of the 4 days of attacks
in the area and the threats against us, but don't worry everyone at RSHQ is safe and spirits are up, so finally, the nuns were able to bring their car on base. They're so sweet and so small. It was my

first time meeting them and they gave me a big bear hug. They
love the donations!
They do amazing work. They take care of 400 families by giving them food, clothes, and blankets and care for 2,200 children orphaned by the war. They really love their kids and talked about them a lot.
They have a passion for educationand teach kids of all ages, so the coloring books and note pads were a big hit. They speak marvelous English and teach English to the children, as there are better opportunities for English speakers. The nuns especially loved the teddy bears, the little ones love teddy bears!
Your donations
filled up their car, you can tell by the picture of the teddy bear squashed against the car window. There was no wasted space! They were so appreciative and kept thanking us for the donations.
They explained that it's our support that keeps their mission going and keeps their children safe and independent from the corruption and abuse that exist in Kabul. Before they left, we all held hands and said a prayer for us here to keep safe and for our loved ones back home to see their friends and family soon.
On a personal note, I just want to say thank you, your support and donations changed these kids' lives. The US will be here for a very long time training and advising, but rarely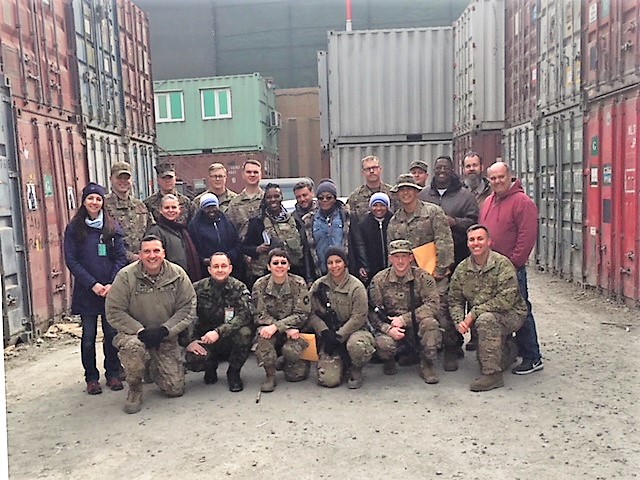 does that touch the everyday Afghan. It's your charity that reaches the people. You won't hear about this on the news, but it's the little acts of kindness that change this country and that will make a kid smile today and to me,
that's newsworthy.
Love you,
Tom
Thomas Edmonds, CPT, JA, U.S. Army
---
1/16/2018
In Thanksgiving for the life of Tommy Carter
«
previous
2/24/2018
Celebration of Life - Tommy Carter
next
»