Palm Sunday: Holy Eucharist with Rev Martha
Celebrant: The Rev. Martha Clark
April 10th at 11am
11:00 AM – 12:00 PM
---
Good Shepherd Episcopal Church
27 Good Shepherd Road
Bluemont, VA 20135
›
Driving Directions
---
In-Person and Online!!
Join us for our service of Holy Eucharist, Rite II, for Palm Sunday, with the Rev. Martha Clark.

Our LIVE service begins at 11am. Thanks be to God for declining COVID-19 transmission rates in Clarke County, where hospitalizations and deaths continue to remain low. Because of this masks are now optional for in-person worship, but are still available in the Narthex, with hand sanitizer stationed throughout the church.
---
If you are more comfortable continuing to keep your distance, we understand.
You can still join us for online worship, via Zoom, using the following link:
Click here to join Good Shepherd Zoom worship
Meeting ID: 230 268 4545 | Password: Get2gether
Click here for a PDF copy of this week's bulletin.
Click here for a PDF copy of the dramatic reading of the Passion of our Lord according to Luke.
---
The Collect of the Day: Almighty and everliving God, in your tender love for the human race you sent your Son our Savior Jesus Christ to take upon him our nature, and to suffer death upon the cross, giving us the example of his great humility: Mercifully grant that we may walk in the way of his suffering, and also share in his resurrection; through Jesus Christ our Lord, who lives and reigns with you and the Holy Spirit, one God, for ever and ever. Amen.
Readings for Palm Sunday:
The Liturgy of the Palms
The Liturgy of the Word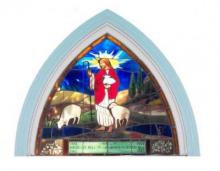 Ash Wednesday Prayer: Almighty God, you have created us out of the dust of the earth: Grant that these ashes may be to us a sign of our mortality and penitence, that we may remember that it is only by your gracious gift that we are given everlasting life; through Jesus Christ our Savior. Amen.